I really don't know how to introduce this little guy without filling your screens with excalamation marks and capital letters that say something along the lines of 'WOOOOOOOOOOOOOO!!!!!' So let's just get all of that out the way.
 
WOOOOOOOOOOOOOOOOOOOOOOOOOOOOOOOOOOOOOOO!!!!!

Hot damn did that feel good.
So, ladies and gentlemen, after months and months of sleepless nights and cramped fingers, I am very proud (and terrified) to announce the launch of my first ever book 'The Blogger Journal'!
It seems like forever ago when the idea to create a bloggers book popped into my head. I remember typing up a Tip Tuesdays, going off on a tangent (as I do), and suddenly writing down something about making a planner just for bloggers. It was just one of those random fleeting thoughts that - realistically - weren't ever going to happen. I mean, let's be real here. I'm not a big blogger. I don't have publishers knocking on my door every five minutes / ever. And on top of all that I'm also in my third and final year of uni with over 19,000 words to write by January. Uh yeah, I should probably get started on that..
So anyway, there I was, not even a year into blogging, casually mentioning potential dreams for the (very) distant future. I didn't think anyone would even take note of what I said because, you know, small fish big pond and all that. But the next day I woke up to a biiit of surprise. Right there at the bottom of my blog post were comments from you guys, tons of 'em, all telling me how much you liked the idea of a blog planner. And from that, you guys - as always - got me thinking. What if?
So I did my research, and - long story short - there weren't many things like this already on the market. Especially ones at a fairly reasonable price. So, I let that thought settle into my head for a little while, and - to be honest - I completely forgot about it until one Tuesday, when I was doing my first ever Twitter chat. Someone asked me about the planner (AKA the one I mentioned in my first post, that was still completely non-existent) and then a bunch of other people started getting involved. I asked if it was something you would want, and amazingly enough, it was a resounding 'yes'. So, I got to it.
And here it is! My first ever book. It's been stressful, it's been expensive, and I'm pretty sure I haven't had a proper night's sleep since I started this whole thing but whatever, seeing it in the flesh makes it all worth it. I hope you guys think so too.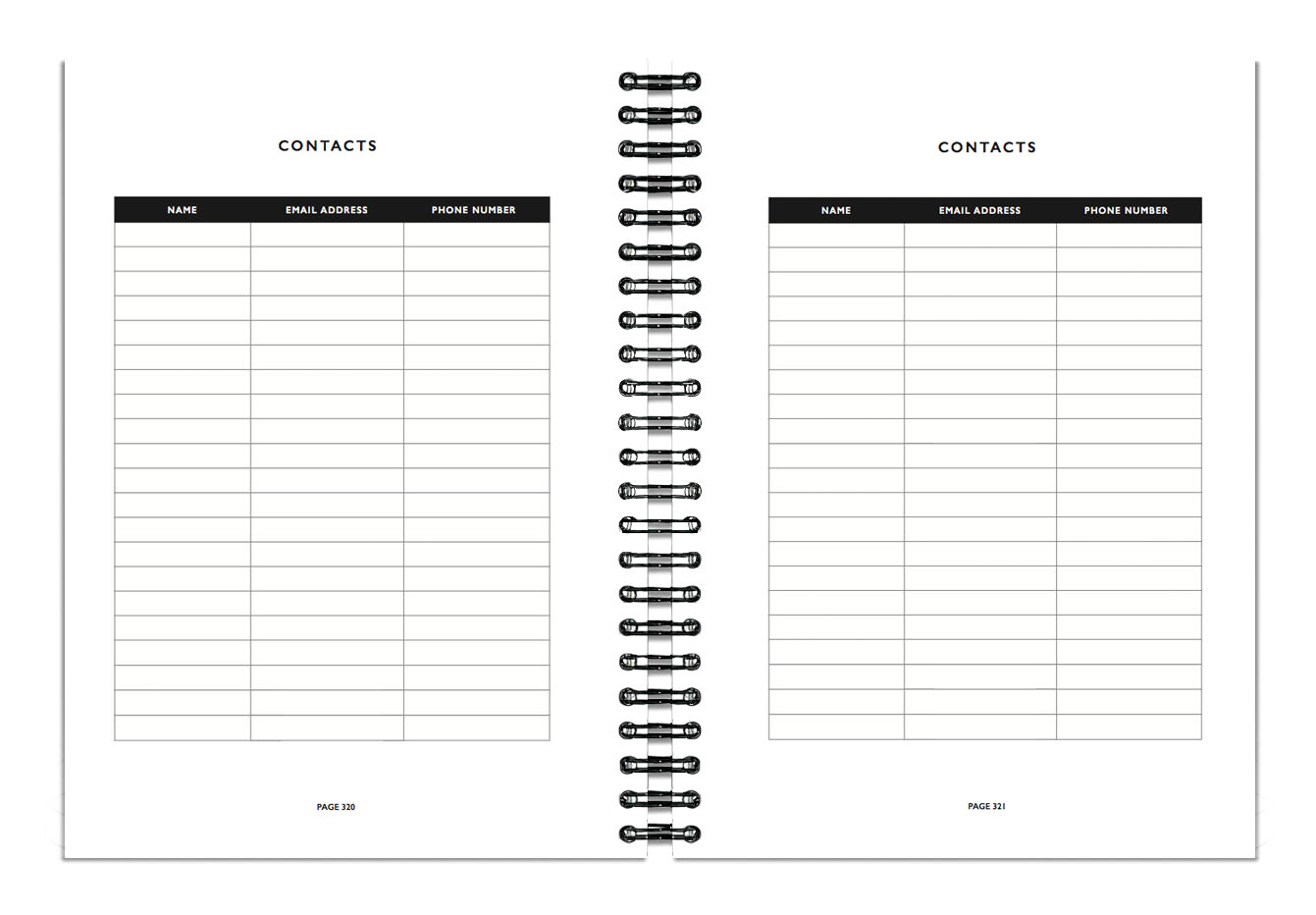 - Weekly blog tips x 52
- Note pages x 52
- Monthly Statistics x 12
- Income Calculator x 12
- Monthly Goals x 12
- Contacts sheets x 5
- A list of blogging terminology
- Optimum social media times
- Useful websites and apps
- 100 blog post ideas
- SEO tips and tricks
- Google Analytics FAQ
- Twitter chat times
- Popular Instagram tags
- Pull-out prints x 12
- The Yearly Planner
- The Monthly Planner x 12
- The Weekly Planner x 52
SHIPPING COSTS:
UK: £2.95 First Class
Int: £6.75 Standard
USA: £9.99 Standard
Elsewhere: Please contact
SIZE & MATERIALS
- A5 (148mm x 210mm)
- 324 pages in total
- 300gsm matt cover
- 100gsm b&w pages

The Blogger Journal retails for £15.99 and it's available worldwide!

I'm currently waiting on the big bulk of orders to land on my doorstep (any day now!), but if you order now it'll be with you in time for the new year, so you can open up your journal and get planning straight away! Think of it as my 'Tip Tuesday' posts on crack. But like, the really good, non-lethal, non-illegal type of crack. And it's pretty damn instagram-able too. Of course.
The first twenty people to buy The Blogger Journal will be receiving an extra little gift from me in their parcel. And one of you will also be chosen at random to receive a full refund (including post and packing) as a little thank you for being really, really great.
Did I mention I wrote a book? I can't wait to hear your thoughts!!